An off-road utility vehicle passing through the bay and reaching a barrier island shows just how expansive the 129-mile shoreline restoration project has become.
Colonel Robert Bartlow, chief of the Natural Disaster Recovery Division within the Air Force Center for Civil Engineers, and his team were tasked with exactly how to use the fine-sand beaches of the Florida coast to their advantage.
"The natural environment provides that first line of defense against storms," ​​he said.
Included in that first line of defense will be a salt marsh, a built shoreline, a protective oyster reef, and reinforced sand dunes.
Walking toward the sand dunes, Bartlow joked about being in engineering school not thinking he'd be working with a natural environment.
"It's not something we traditionally do in Air Force civil engineering," he said. Now maneuvering around sea ​​oats (the coastal plants that dot the area), he explained that they are "the glue that holds these dunes together."
"When a storm comes and storm surge comes, having these dunes built provides a natural barrier against that storm surge … and protects the base that is on the other side," he said.
Beyond physical measurements, the Department of Defense asked Air Force engineers to develop new technology to help forecast future storm threats. Lieutenant Nicholas Cap, the chief of innovation within the Natural Disaster Recovery Division, showed what they developed through a virtual reality headset.
The technology, known as the "digital twin" of the foundation, aggregates all the design and rebuild planning details and enables engineers to use virtual and augmented reality to prepare for challenges before they occur.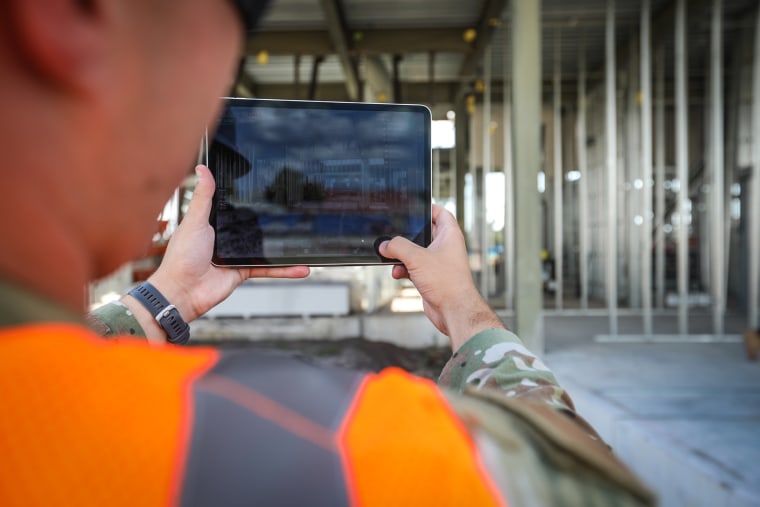 Cap can interact with the new hangars, which will house F-35 fighter jets next year.
"Now I can look and see, okay, we know the storm will be a category 3. … Let's go through the base in the digital twin and see, okay, these facilities can handle that," he said. "Instead of being reactive, it allows us to be proactive in the face of future threats."
Watkins said the Air Force plans to use what it learns from Tyndall to help establish best practices for fortifying non-military buildings along the Florida coast.
"I certainly hope that what we do here and what we learn here can be scaled and shared," Watkins said. "There's a lot of pressure to be critical of what we do and make sure we're doing it the right way…so we can share that with other communities and other facilities around the coast."